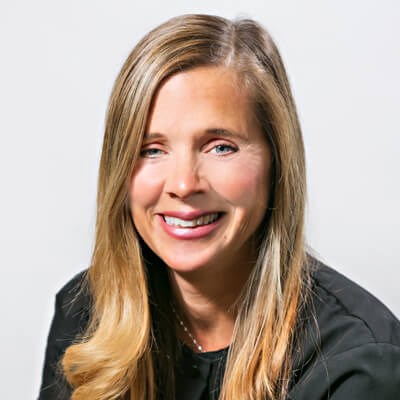 PATRICIA - RDH
Patricia has over 25 years of experience as a dental hygienist. Patricia prides herself in making patients feel comfortable and valued. She is especially good with children and adults with special needs. As the mother of a child with special needs, she understands the challenges some individuals have at the dentist. Patricia strives to make all her patients feel at ease while providing the highest quality of care.
---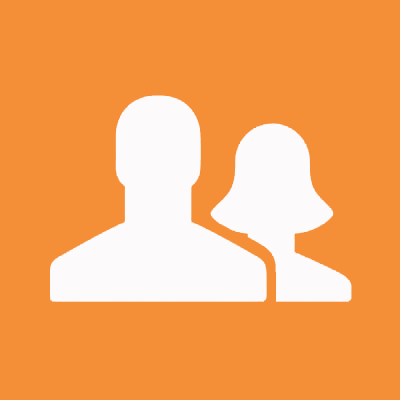 IRINA - RDH
Irina is a registered dental hygienist. She loves helping people and cares deeply for her patients. She is very personable and always does her best to make her patients have a comfortable and fun time while providing the best care. Irina firmly believes that our teeth are very important for our overall health. She offers personalized homecare advice and instructions to maintain a beautiful, healthy smile.
---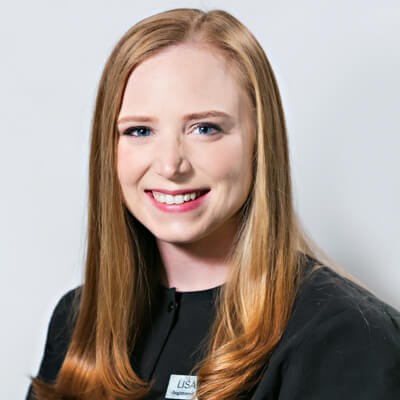 LISA - RDH
Lisa is a registered dental hygienist and a valued member of the dental team. Whether a patient has been coming to the office for years or it's their first time, Lisa uses her kindness and compassion to make her patients feel comfortable and valued. She deeply cherishes the relationships that she has developed with each patient she sees. Lisa also enjoys educating patients on preventive care that will allow them to reach a beautiful and healthy smile. Lisa received her degree from Tunxis Community College. She strives to keep current with advancements in dentistry by frequently attending continuing education classes. In her free time, Lisa has many interests, including hiking, boating, and snowmobiling. She also enjoys spending time with her German Shepherd and cat, reading, and watching a good TV show or movie.
---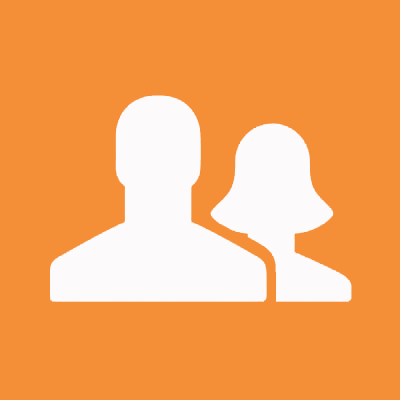 TONYA - RDH
As a graduate of the University of New Haven's dental hygiene program in 2003 and a former dental assistant, Tonya has 20+ years of experience in the dental field. Having a significant fear of dentistry herself as a child, she is very adept at making her patients as comfortable as possible while providing exceptional dental healthcare. Tonya has a thorough, yet gentle touch. She adapts her care to the individual needs of the patients with compassion and respect. When not at work, she enjoys spending quality time with family and friends.
---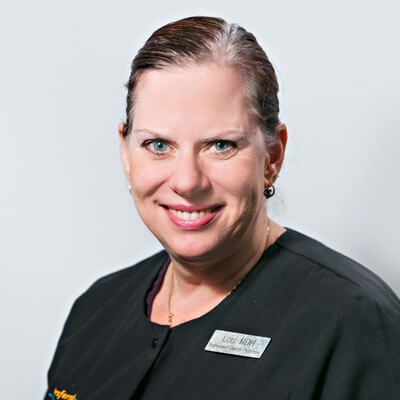 LORI - RDH, BS
Lori is a registered dental hygienist who graduated from the University of Maryland Dental School in 1993. Lori is passionate about oral health and provides clear, practical advice on how to achieve dental health. Lori shows compassion to all patients, whether they have been our patients for years or they are new to us. When Lori isn't at work, taking care of her husband and four children are her top priority. She also finds time for short-term mission trips. She has been with our practice since 2007.
---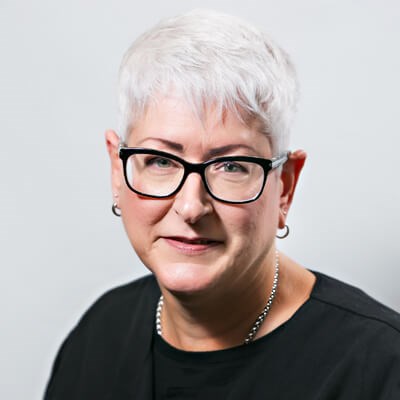 TESS - RDH
As a dental health team member and a registered dental hygienist, Tess provides a warm and welcoming service to each and every patient that enters our facility. It is important to Tess that her patients feel valued and comfortable so she strives to offer each of them the highest caliber of care. Tess's focus is on providing exceptional dental healthcare, and she deeply values the relationships she has developed with patients over the last 21 years at Dr. Schulman's practice. When not in the office, Tess can be found collecting seashells and indulging on lobster, tacos, and margaritas with a salted rim!
---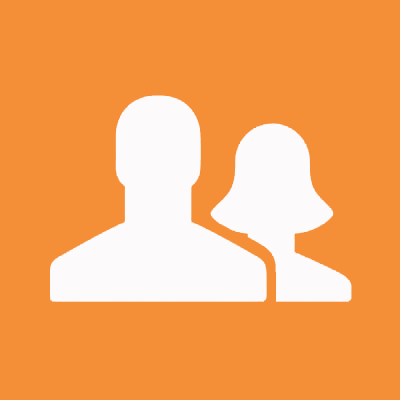 RONEY - RDH
Roney has been a part-time hygienist in our practice since 2012 when he received an associate degree in dental hygiene from Tunxis Community College. We were Roney's first clinical assignment after graduating from Tunxis and he has been with us ever since, providing excellent care to our patients. Originally from Ghana in Africa, Roney came to the U.S. in 1996 to pursue his American dream. When not working in the dental field, Roney is a licensed real estate agent, helping people find their forever homes. He enjoys spending time with his teenage daughter and playing soccer.
---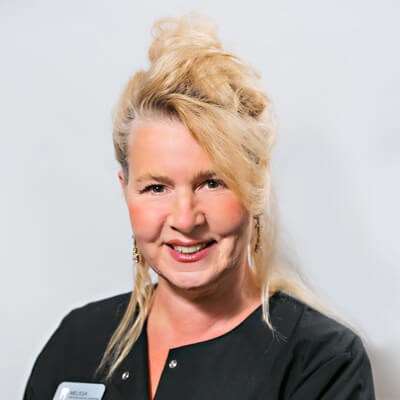 MELISSA - DENTAL ASSISTANT
Melissa has been a dental assistant in Dr. Schulman's dental office for 12 years. She enjoys working in the practice because of the wide variety of procedures we do in order to help our patients keep their teeth healthy. She particularly enjoys working with our oral surgeon doing complex surgical procedures. When not working, Melissa enjoys reading, hanging out with friends and family, and relaxing at the beach.
---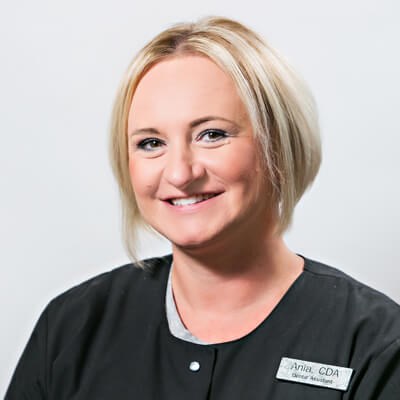 ANIA - DENTAL ASSISTANT
Ania has been a dental assistant for 15 years. She studied at Dental Careers Institute and is certified in radiology and infection control. She was born and raised in Poland and came to the U.S.A. when she was 18 years old. She is a long-time resident of Plainville. In her free time, she likes to travel with her family and visit other countries.
---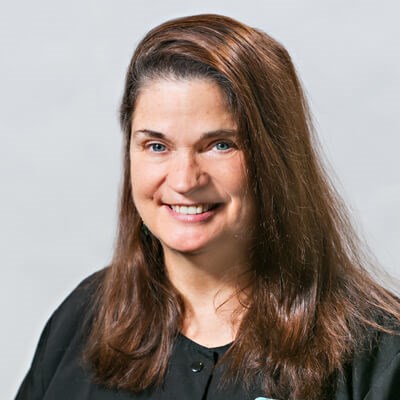 NEVA - CERTIFIED DENTAL ASSISTANT
Neva is a 17-year veteran dental assistant with Dr. Schulman's practice. Her favorite procedure to assist in is placing dental implants. She loves the idea of being part of creating a new smile. She is always eager to help with any project in the office. Helping patients overcome their dental fears is particularly enjoyable for her. When not working as a dental assistant, she practices massage therapy in her private office. She loves hiking in the summer and winter. No season is off-limits for her!
---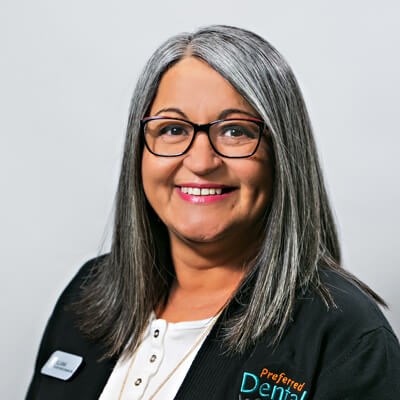 ILLIANA - PATIENT CARE COORDINATOR
Illiana joined the dental field in 2016, bringing with her 30 years of customer service experience. She uses those skills to provide a pleasant atmosphere as she greets all the patients at the front desk. Her attention to detail ensures that each patient is accurately checked in and their appointments run smoothly. Her enthusiasm and sense of humor are vital to the patient experience. In her free time, Illiana focuses on her family. She is often out and about with her son and daughter who are both a great sense of pride for her.
---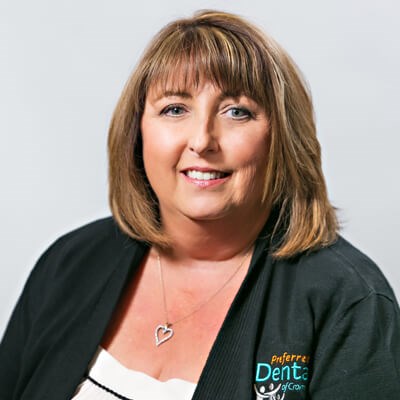 MICHELLE - PATIENT CARE COORDINATOR
Michelle has been a familiar face at the front desk for 20 years. After 15 years of customer service in the retail industry, she began her career in the dental field in 1999 when she joined Dr. Schulman's growing practice as a patient care coordinator. Michelle has developed close relationships with the patients in our practice. She is committed to guiding them through their insurance policies, treatment plans, and routine care with knowledge and compassion. When she is not at work, Michelle dedicates her time to her husband and their son. Michelle is an active member of the Cromwell community. She volunteers at her local church as a faith formation teacher. Her favorite hobbies include reading and cooking. Originally from the Bronx, NY, Michelle often travels throughout the tri-state area visiting family and friends.
---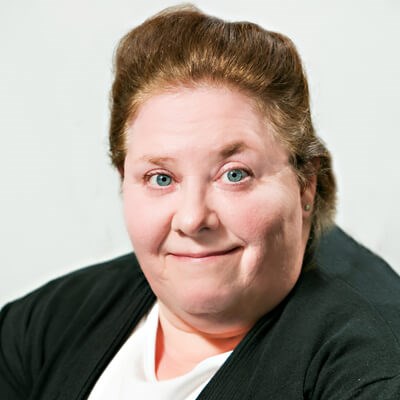 KATHY - PATIENT CARE COORDINATOR
Kathy joined our practice in 2015. She has an associate degree in science from Southern Connecticut University. She brings dental knowledge with her, shared by her niece who is a dental hygienist. Kathy serves a vital role as a patient care coordinator. In addition to administrative support, she ensures appointments are confirmed and dental records are prepared for each day. In her free time, Kathy is an avid movie buff. She also enjoys reading, puzzles, cooking, and game shows. Kathy has a love for nature and her golden retriever, Ashley, is her favorite companion.
---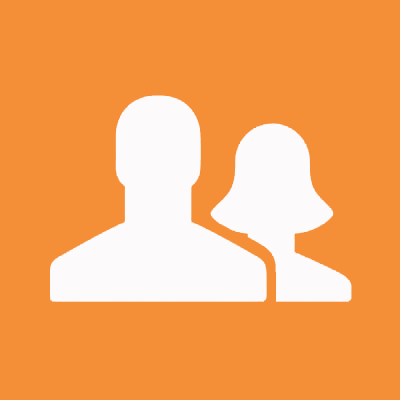 SHARON - PATIENT CARE COORDINATOR
Sharon received her associate degree from Briarwood College in business administration. She joined Dr. Schulman's practice in 2001, bringing with her five years of experience working in an endodontic office. She provides administrative support at the front desk in her role as a patient care coordinator. Sharon's people skills are an enhancement to the patient experience. When not at work, Sharon enjoys spending time with her four grandchildren. She loves long walks on the beach and enjoys the occasional thunder storm.
---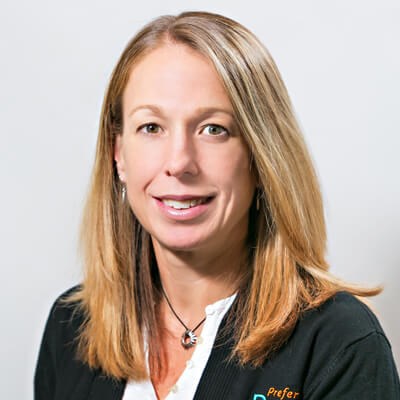 HEATHER - PATIENT CARE COORDINATOR
As a patient care coordinator and billing expert, Heather has worked hard to make our patients feel at home in the office. She has 25 years of experience working with Dr. Schulman, providing a comfortable and fulfilling visit for each patient. From scheduling appointments to helping the patient understand their estimated out-of-pocket obligations, patients have formed long-lasting relationships with her and her co-workers. Helping patients achieve their greatest smile is what makes each day a success. Heather enjoys spending time with her husband and two boys. When not working, she enjoys running and spending the day at the beach with her children.
---